How Payers and Providers are Turning AI-powered Insights into Improved Health and Reduced Costs
There are many ways predictive modeling can help you transform your organization, improve health outcomes, and reduce costs.
When it comes to population health analytics, taking advantage of the right predictive models is key to understanding your population's health and wellness needs, stratifying patients based on prospective risk, matching patients with the right programs or care pathways, improving utilization patterns, and ultimately realizing measurable health gains and financial savings.
Certilytics offers dozens of standard predictive models as part of our Forecasts risk stratification tool, as well as client-specific custom models built on our Brainstorm® AI Studio.
Here are 10 predictive models that our customers are using to supercharge their population health efforts: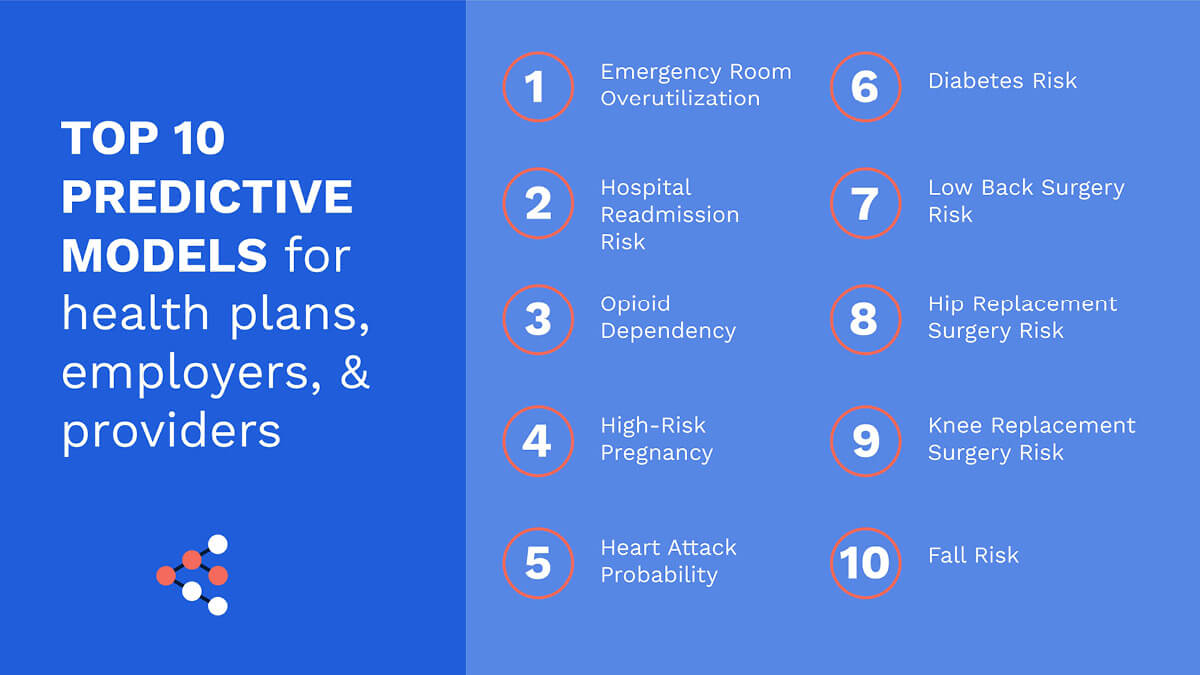 1. Emergency Room Overutilization
Non-urgent emergency room visits are a major source of avoidable spending in the U.S. healthcare system, driving up costs for health plans and employers and draining provider resources that would have been better spent dealing with real emergencies.
AI-powered predictive models can play a big role in helping steer members to higher-value care settings, such as urgent care clinics or a primary care physician—which reduces costs and can lead to better long-term health outcomes.
Certilytics' "Emergency Room Overutilizer" model predicts a member's likelihood of having three or more emergency room visits in the next year. The model has shown to be highly accurate and has helped our customers identify common causes of ER over-utilization, such as migraines, mental health challenges, and a history of substance abuse.
This has enabled our customers to implement more effective outreach strategies, at both the individual and population levels, to proactively educate members about alternate care settings—before they end up in the emergency room.
2. Hospital Readmission Risk
Hospital readmissions are extremely costly for healthcare organizations. While some of these repeat visits are unavoidable, many of them could have been prevented. Predictive insights are critical to helping healthcare organizations break the cycle of repeat hospital visits by shedding light on when a discharge is appropriate and identifying complications driving the repeat visits.
Certilytics' "Hospital Readmission Risk" model leverages deep learning to predict a readmission within 30 days of discharge after an acute hospitalization. Rather than treating complications that stem from checking out a patient too early, payers and providers armed with predictive insights are able to coordinate effective discharge planning from the time a patient checks into the hospital. This ensures that the patient's needs are met throughout the care continuum, helps reduce avoidable overspend, and addresses underlying causes for a hospital visit before a patient is readmitted.
3. Opioid Dependency
The opioid crisis continues to devastate communities and families, remaining a top concern for health care leaders as well as federal policymakers.
Early intervention is key to connecting potential opioid abusers to treatment and care resources before the cycle of dependency and addiction sets in. But many organizations have invested in programs that identify opioid abusers retroactively, or after someone has engaged in behavior that leads to opioid addiction.
More providers and health care leaders are turning to AI-powered predictive models to predict the potential for opioid abuse before it occurs, triggering earlier interventions that save lives and avoid enormous cost spikes.
The Certilytics' "Opioid Dependency" model is designed to identify high-risk patients before they've become dependent. It predicts the probability that someone will abuse or become dependent on opioids in the next twelve months. This insight provides health care leaders with an optimal window to deploy targeted outreach, and address the factors that could lead to opioid dependency.
4. High-Risk Pregnancy
About 12% of pregnancies are considered high-risk. Earlier detection through advanced predictive analytics of those at risk for pregnancy complications allows payers and providers to develop treatment plans that can meet the mother and baby with the right care resources at the right time. This can help reduce the risk of premature births, hospitalizations, or other complications.
Certilytics' "High-Risk Pregnancy Model" integrates data from many sources, including Social Determinants of Health (SDOH) data, to identify those at risk for high-risk pregnancy earlier.
This has enabled payers and providers to coordinate care pathways that address common risk factors including the mother's age, chronic medical conditions, diet, and mental health. It has also helped address complications such as high blood pressure or infections before they progress into more serious conditions throughout a pregnancy.
5. Heart Attack Probability
Every 40 seconds, someone in the United States has a heart attack, according to the Centers for Disease Control and Prevention.
Predictive insights are crucial to detecting those at risk for heart attacks before a hospitalization or even death occurs. Earlier interventions driven by the forward-looking insights can also help prevent the onset of other associated conditions.
Certilytics' "Acute Myocardial Infraction Model" predicts the risk that a patient will suffer a heart attack within the next 12 months. With this deeper understanding of emerging risk and its main drivers, providers and payers can shift to prevention including proactive, personalized engagement and education strategies.
6. Diabetes Risk
Diabetes is a major cost driver and has devastating consequences for patients. In the U.S., the condition is responsible for hundreds of millions of dollars in healthcare spending and lost productivity, and is one of the top causes of death.
Predictive modeling identifies members at risk for diabetes before they're diagnosed, enabling earlier interventions that could delay the onset of the disease and avoid unplanned hospital admissions and ER visits. For those already diagnosed with the disease, forward-looking insights can help manage the condition by pinpointing potential comorbidities and risk factors.
Certilytics' "Diabetes Risk" model predicts the onset of diabetes in the next 12 months with high accuracy.
7. Low Back Surgery Risk
Back pain is common, affecting about 80% of Americans at some point in their lives, according to the National Institute of Neurological Disorders and Stroke. And that number may be increasing, as the rate of Americans visiting physicians with a back pain has been steadily increasing.
The number of treatment options has simultaneously surged in recent years. Yet those suffering from back pain often choose an invasive surgery that comes with a high cost and does not always lead to better outcomes. While surgery may work for some, it's not always the best option. Early and targeted outreach can help educate patients on other non-invasive possibilities that would more effectively treat their pain while reducing the total cost of care.
More providers and payers are relying on predictive modeling to anticipate those at risk of surgery in the future so they can better target their outreach efforts.
Certilytics' "Low Back Surgery Risk Model" identifies those with a higher likelihood of having the surgery in the next year. Identifying these at-risk members earlier has allowed payers and providers to proactively reach out to the right members and ensure they are seeking the most effective treatment option possible.
8. Hip Replacement Surgery Risk
Like the phenomenon surrounding lower back pain, many have turned to hip replacement surgery to treat osteoarthritis or other conditions causing pain in the hips.
In recent years, hip replacements have skyrocketed, their popularity surging in particular among older age groups but also with athletic younger people. For instance, the rate of total hip replacement more than doubled for those aged 45–54 between 2000 and 2010, according to the CDC. And that rate is expected to continue to rise as the population in general ages.
But the costs for these surgeries have varied widely and can lead to long hospital stays. Some studies have questioned whether large swaths of these surgeries were necessary, and whether other treatment options could have led to better outcomes, including physical therapy, pain medication, or exercise.
Certiltyics' "Hip Replacement Surgery Model" predicts the likelihood of a surgery in the next year. Using these insights gives health plans, employers, and clinicians the ability to design more effective outreach strategies so that those experiencing hip pain can make healthier and better-informed treatment decisions.
9. Knee Replacement Surgery Risk
Along with hip replacement surgeries, knee replacements have increased dramatically in recent decades, rising even among younger age groups. But an invasive, costly surgery may not always be the best treatment option to repair a knee damaged by arthritis, knee injury, or other causes.
Similar to the surge in hip replacement surgeries, a number of recent studies have raised questions about whether some knee replacement surgeries are appropriate when weighed against the risks of surgery.
Predictive analytics can play a crucial role in driving early outreach efforts to members at risk of having a surgery in the near future. Through better education about non-invasive treatment options and addressing underlying causes for the pain, payers and providers can improve health outcomes and contain costs.
Certilytics' "Knee Replacement Surgery Model" predicts a person's likelihood of having knee replacement surgery in the next 12 months. Payers and providers leverage these insights to be more precise about their engagement and education efforts, steering at-risk members to the most effective treatment option for them–before a surgery takes place.
10. Fall Risk
Falls are a leading cause of injury and accidental death among people older than 65, and often lead to costly emergency room visits and long-term treatment.
According to the World Health Organization, fall incidents are the third-leading cause of chronic disablement in older people. And annually, about 30% of people older than 65 fall at least once, and 15% fall at least twice.
The causes of these falls can be many, from impairments in balance and strength to chronic disease or use of psychotropic medications.
Predictive analytics are critical to helping healthcare organizations avoid costly emergency room visits and injury by pinpointing those at risk of falling and addressing the factors that could lead to a fall.
That's why Certilytics developed a "Fall Risk Model." With a more accurate picture of those at risk, payers and providers can address the common factors contributing to a potential fall and connect that person to the right resources before an injury occurs.
For a free consultation with our team of experts on how you can leverage predictive insights to transform your organization, reach out to us at contact@certilytics.com