'Together is always better'
This is the third in a series of interviews with the Certilytics employees behind our market-leading healthcare predictive analytics solutions.
In her three years at Certilytics, Jessica Kinnick has worked directly with many of our clients to implement data exchanges and help them better understand how to translate our advanced predictive intelligence into immediate real-world value.
Along the way, she has overseen the formalization of our client onboarding process, which can get new customers up and running with our solutions in less than 90 days.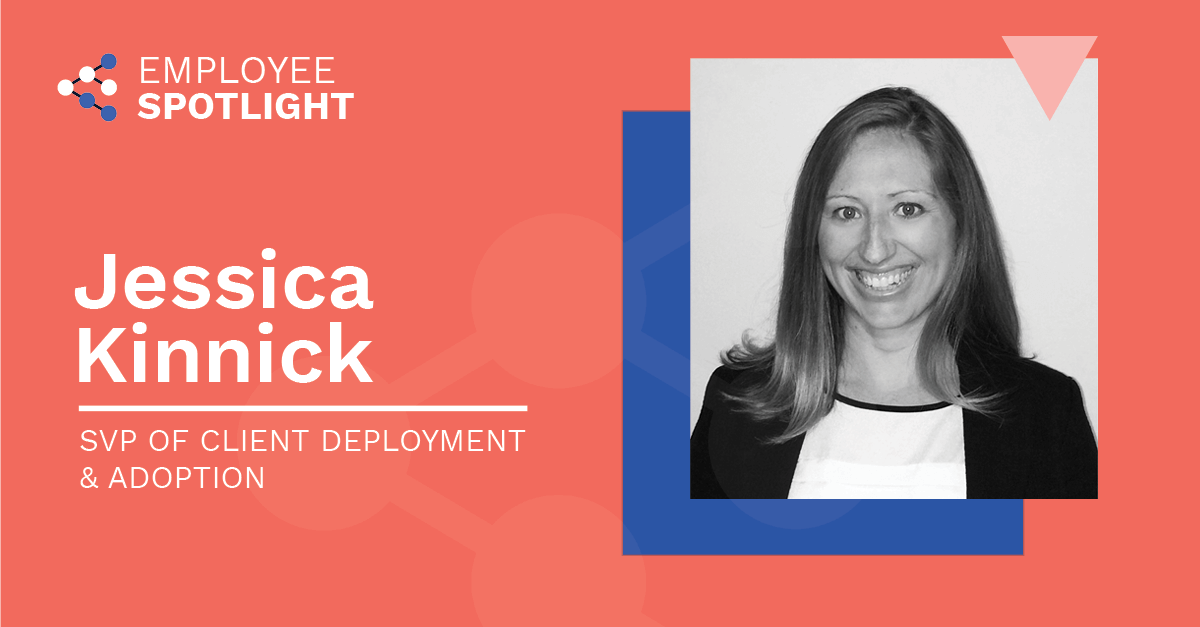 Q: Hi, Jessica! How long have you been at Certilytics?
A: I started in February of 2018. I recently celebrated my three-year work anniversary!
Q: Congratulations! Can you tell us about your progression at the company?
A: I have held a number of different positions during my time with Certilytics. I started as one of the first Product Managers of the company, focused mainly on the early versions of both the Aspects Dashboards and Opportunity Analysis Report. I was able to work directly with our clients to make sure we were creating and releasing features that were meaningful to their business needs.
I then became the Director of the newly established Client Deployment & Implementation Department. There, I was primarily focused on managing the customer onboarding process to ensure successful product deployment and client adoption.
I am now the Senior Vice President of the newly formed Client Deployment & Adoption Department, which oversees both the implementation and client management processes.
Q: What's your favorite thing about working at Certilytics?
A: The people! I enjoy collaborating and problem solving with my colleagues on a daily basis. Everyone brings a lot of energy and positivity to their work, and it makes for a great work environment.
Q: What's the best career lesson you've learned so far?  
A: To value the strengths and input of others—together is always better.
Q: What does a typical day look like for you?
A: My days usually consist of a good mix of internal and external client communication. During my typical workday, I start by checking my emails. This helps me reply to high-priority and client items before the day gets too busy. I then look over my to-do list and calendar to help prioritize the tasks I will focus on that day. During the day, I attend client and internal meetings to organize and plan for upcoming deliverables.
Additionally, I am responsible for coordinating with the rest of the Client Deployment & Adoption team as they progress on various implementation and client deliverables. I work with them to help resolve or escalate any issues they may be having. At the end of the day, I will review and reply to emails as well as update my to-do list for the next day.
Q: What do you think sets Certilytics apart in its ability to process customer data and provide predictive insights?
A: We really differentiate ourselves with our talent, previous client experience, scalable technology, and the high priority the company places on client deliverables and customer satisfaction.
Q: What are your hobbies outside of work?
A: I love to spend time outdoors with my family. I have two daughters, ages 3 and 5, so a lot of my extra time revolves around activities with them. As a family, we love to go hiking, camping, swimming, and biking. We are introducing the girls to rock climbing as well—and so far they are loving it! I also enjoy reading and listening to podcasts when I have down time.
Q: What's something people may not know about you?
A: My husband and I thru-hiked the Appalachian Trail in 2014. The top three questions we get when we tell people:
How long did it take? Five months and one week.
How did you get food? We would go into town about once a week to resupply at local grocery stores and gas stations.
Did you bring a gun? Nope!
Q: If you could travel anywhere, where would you go and why?
A: New Zealand! I would love to visit and explore the natural beauty of the country.
Q: What role do you think health information professionals play in improving patient health?
A: I have been working in the health information field for over ten years now. At times, it is easy to lose sight of the impact that we have as it relates to direct patient care and improvement of health outcomes. However, health information professionals have a big role to play as it relates to the security, integrity, and value derived from patient health data. We have an enormous opportunity to impact patient care on a macro level. Our responsibility is to translate patient data into actionable opportunities for improved outcomes and lower healthcare costs. When we can do that, with the patient in mind, it allows us to derive real meaning from the work we do.